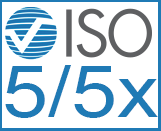 The Danville Volunteer Fire Department was recently audited by the Insurance Services Office (ISO), by request of the department. This audit provides a rating for the department, that insurance companies use to determine the level of risk associated with offering coverage for homes within our response area. This rating is known as the Public Protection Classification, or the PPC. ISO evaluates municipal fire-protection efforts in communities throughout the United States. A community's investment in its fire department is a proven and reliable predictor of future fire losses. As a result, insurance companies use PPC information to help establish fair premiums for fire insurance – generally offering lower premiums in communities with better protection. Many communities use the PPC as a benchmark for measuring the effectiveness of their fire-protection services. The PPC program is also a tool that helps communities plan for, budget, and justify improvements.
The areas of which ISO examines within the fire department, are as follows:
Emergency communications systems, including facilities for the public to report fires, staffing, training, certification of telecommunicators, and facilities for dispatching fire departments.
The fire department as a whole, including equipment, staffing, training, and geographic deployment of fire companies.
The area's water supply system, including the inspection and flow testing of hydrants and a careful evaluation of the amount of available water compared with the amount needed to suppress fires.
Community efforts to reduce the risk of fire, including fire prevention codes and enforcement, public fire safety education, and fire investigation programs.
ISO analyzes the relevant data and assigns a Public Protection Classification — a grading from 1 to 10. Class 1 generally represents superior property fire protection, and Class 10 indicates that the area's fire suppression program does not meet ISO's minimum criteria. The Danville Volunteer Fire Department received an ISO reading of 5/5X. The Danville Volunteer Fire Department is proud to serve not only our community, but also the surrounding communities with this rating. A lot of hard work went into achieving this lower rating for the residents, and the hard work will only continue going forward to continue lowering the risks within our community, as well as giving our community the best possible services we can provide!